Dinner cruise with overnight stay


Dinner cruise and overnight stay
A fully catered afternoon's sailing on the IJsselmeer, including bbq and drinks.*
An afternoon out with plenty of time for a good meal, a few drinks and catching up. We set a course together, depending your preferences, wind and weather. An afternoon's sailing in the fresh air with your collegues, family and/or friends. We anchor in a quiet spot for a barbeque or dinner buffet, and end the day back in the harbour. Spend a comfortable night on board and return home the next morning aftyer a hearty breakfast.
Programme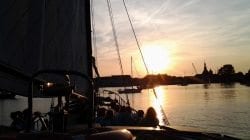 15:00 Welcome with drinks and snacks.
15:15 We set sail under expert guidance. You can relax or participate; it's up to you.
18:15 We anchor in a quiet spot.
18:30 Barbecue or dinner buffet on board.
20:00 Arrival back in port; free programme. Further catering and bar on request.
08:00 Breakfast buffet.
09:00 Farewell from the skipper; disembark.
This arrangement can be combined with an optional stopover in the picturesque ports of Marken or Volendam.
Prices
€ 43.95 Basic arrangement.
€ 54.50 Extensive arrangement.
€ 74.50 Luxury arrangement.
Prices are per person and include drinks*, meals, tax and service.
*(the bar is open until  20:00 hrs; extended bar times on request).
Descriptions of meals on our  catering list.
Rent of the ship & crew:
€ 1,050.00 Mondays – Thursdays;
€ 1,250.00 Fridays, Sundays, public and bank holidays;
€ 1,450.00 Saturdays.
Click for a free quotation.
You pay per person
Our packages are carefully put together based on years of experience with our guests.
Rates are per person (min. 12 persons) and include all costs except ship's rent, extended bar times and bedding. You can bring your own sleeping bag or duvet, or rent a duvet + towel set from us @ €15.00 per set.
You can change the number of participant up to seven days in advance. Rates for smaller groups (<12 persons) and different bar times on request.
Let us know if you would like any changes in the programme, so we can provide you with an estimate. Anything is possible, within reason.
Monnickendam
Our sailing trips begin and end in Monnickendam. This beautiful town in less than ten minutes from the A10 Amsterdam ring road is the ideal port of departure for all our trips. It has ample parking near the harbour and is well served by public transport. Other ports are also possible in agreement.