Sailing the Markermeer
Sailing
The Markermeer is a wide area wherein a large but shallow-draughted ship like the Catharina can cope very well. The ever-present and mostly westerly winds ensure that sailing is almost always guaranteed here. Most ports are located on the sheltered western side of the lake, so that even with strong winds we can get there comfortably. In summer the temperature of the shallow water rises quickly, inviting us to a swim.
Development
This unique lake was originally destined to become polder land as well, already named "Markerwaard" in Cornelis Lely's original plans for the Zuiderzee in 1891. The completion of the Houtrib dike between Enkhuizen and Lelystad in 1976 divided the IJsselmeer into a northern and a southern part, and was meant to prepare the area for reclamation. However, due to changed views about economy, recreation and environment as well as protests from the local population and the general public, reclamation was postponed. The final decision to leave the Markermeer an open lake was made in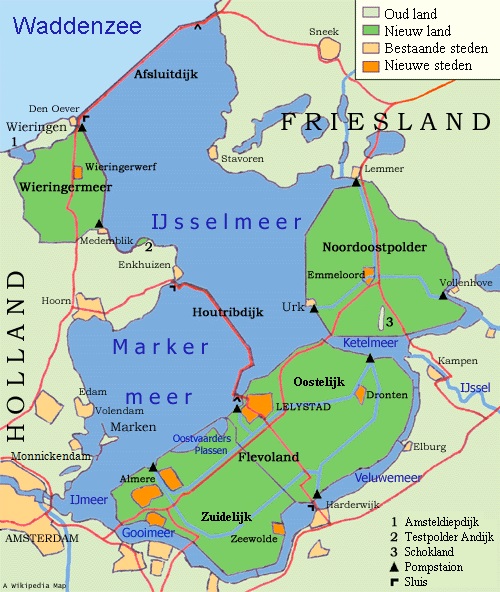 2003.
Geography
The Markermeer covers an area of ​​700 km2 (270 sq mi). It is quite shallow with an average depth of only 3 metres, and even less in winter. The bottom is different from that of the IJsselmeer; because currents were weaker here, it is much smoother and its soil is mainly silt. This flatter bottom means that the waves are generally calmer here than on the IJsselmeer.
IJmeer
Southwest of Marken, the Markermeer turns into the IJmeer. Here, between Amsterdam and Almere, a lot of urban development is taking place. Amsterdam has recently expanded into the water with the new IJburg district and Almere has plans to do the same. There is also still talk of a bridge between the two.
Harbours
De following ports are located on the Markermeer and IJmeer, clockwise from Monnickendam: Katwoude, Marken, Volendam, Edam, Scharwoude, Hoorn, Wijdenes, Broekerhaven, Enkhuizen, Lelystad, de Blocq van Kuffeler pumping station, Pampus, 't Hooft, Muiderzand, Muiden, IJburg, Amsterdam, Durgerdam, Uitdam and de Nes.