Day trip sailing
Day trip sailing on the IJsselmeer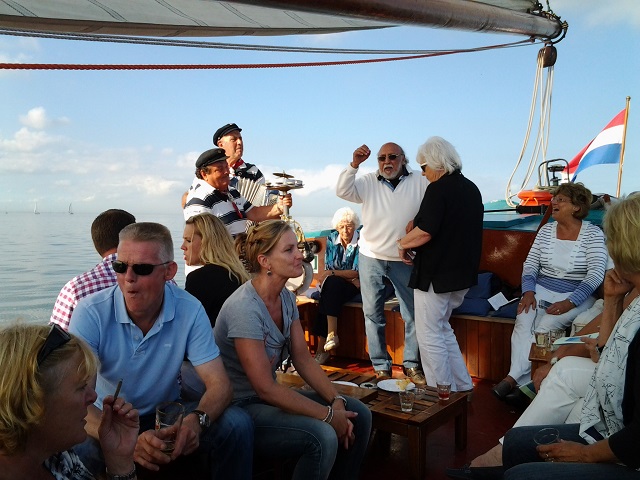 Get away from it all for one day sailing with your family or friends. A "gezellig" get-together aboard a purely Dutch tradition. A snack, a drink and a good chat, away from the daily grind.
Sailing together works like a fresh breeze, in more ways than one.
As active as you like
Set sail under the guidance of a trained crew and let your worries be blown away for the day. Sailing may have been hard graft once, but nowadays many hands make light work and once the sails are up things will run smoothly. Take the helm and feel like the captain of a tramp ship.
Sailing can be as exiting as you like: we'll keep you busy bearing away and luffing up, tacking and gybing, etc. You can stretch your legs in another port or on an island, or we can lower the anchor on a hot day so everyone can have a refreshing swim. Anything is possible.
Fully catered arrangements
Our fully-catered packages are our pride and joy. For a fixed amount per person we can offer the right arrangement for any party, with all the trimmings. You will know exactly what to expect.
Look in the menu on the right for all our fully catered quality arrangements.
Click here for all our fully catered arrangements.
Assemble your own arrangement
With a few mouse clicks, you can calculate your arrangement.
Click here for our handy calculator.
Basic rental rates
Would you like to just rent the ship, and organize the catering yourself?
Click here for our current prices.
Extras
There are plenty of possibilities for additional sporty and cultural activities.
Click here for our list of extra activities.