Sailing the IJsselmeer
Sailing
The IJsselmeer is a beautiful and varied sailing area, ideal for a large ship like the Catharina. The ever-present wind ensures that we can always  reach the next port quickly but it is also vast enough for long stretches of sailing, unhindered by tides. In warm weather the fresh water can be very inviting; let's lower the anchor and go for a swim!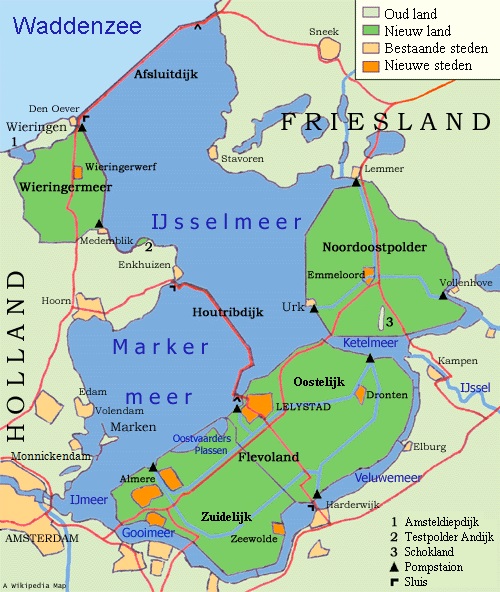 Development
The IJsselmeer is still a relatively young sailing area. It originated in 1932 when the Zuiderzee was divided by the Afsluitdijk into the saltwater Wadden Sea and the freshwater IJsselmeer. It was then shrunk even further; the Wieringermeer polder had already been reclaimed two years before the closure, the Noordoostpolder followed in 1942 and the Flevopolder was reclaimed in two phases in 1955 and 1968. In 1976 the Houtribdijk was completed; this dike between Enkhuizen and Lelystad divided the IJsselmeer into a northern and a southern part, later called Markermeer.
Geography
The current IJsselmeer is ​​1100 km². It is relatively shallow with an average depth of 4 metres, its deepest points being off the coast of Lelystad and Urk. Because of the tidal currents in the former Zuiderzee, the IJsselmeer has a very sandy bottom with occasional banks and deep gullies. This variation in the bottom of the lake accounts for the sometimes erratic waves during strong winds.
Harbours
Ports around the IJsselmeer include (clockwise from Monnickendam):
Enkhuizen, Andijk, Medemblik, Oude Zeug, Den Oever, Breezanddijk, Kornwerderzand, Makkum, Workum, Hindelopen, Stavoren, Laaxum, Lemmer, Urk, Lelystad and Trintelhaven. We have extensive information about all these ports and towns on board.