Youth groups full board


Youth groups full board
This budget package was developed especially for school classes, youth groups and residential groups. The cook prepares three simple meals a day including coffee, tea, milk, mineral water and lemonade, with the assistance of the participants. The participants do galley duty: setting and clearing tables, washing up, preparation, keeping passenger accommodations clean and tidy.
Basic rate for kitchen staff & service: € 120.00 per day.
Besides that, per person (minimal 16 persons):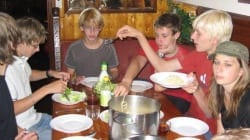 Week, midweek or school trip: € 21.50 per person per day.
Duvet, bedding & towel (optional): € 15.00 per set.
Duvet: € 10.00 self-service.
Extra towels: € 2,00 each.
The skipper and mate guide the participants in all the sailing activities.  The supervisors are expected to participate in all activities. A minimum of two supervisors per group is required; more depends on the needs of the group.
Click here for a free quotation.
Bar options  (18 years & older)
€ 19.95 Basic bar.
€ 22.50 Extensive bar.
€ 27.50 Luxury bar.
Bar prices are per person and include tax & service.
Descriptions of bar options on our catering list.
The bar is open from 15:00 till 00:30 hrs. Extended bar times on request.
Drinks can also be tallied up and charged afterwards: prices of individual drinks are on our catering list.
Pay per person
Our packages are carefully put together based on years of experience with our guests.
Prices are per person and include all costs except the rent of the ship, so there are no unpleasant surprises afterwards.
You can change the number of participants up to seven days in advance. Prices for smaller groups, extended bar times and extra meals when checking in the night before on request.
Let us know if you would like any changes in the programme, so we can provide you with an estimate. Anything is possible, within reason.