Weekend sailing full board 2d1n


Fully catered weekend trip, 2 days 1 night
Get away from it all for a weekend with your family, colleagues or friends. A "gezellig" get-together aboard a purely Dutch tradition. Sailing together feels like a fresh breeze, blowing through the cobwebs of established relationships. Enjoy a whole weekend on the water with sufficient time for leisurely meals, drinks, chatting and relaxing. We set a course depending on wind and  weather;  you too can take the helm if you like.  A weekend of wide vistas and fresh air with family or friends. Stretch your legs in a different port, and enjoy the waves!
Programme
Saturday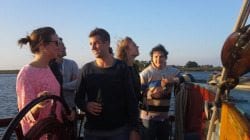 10:00 embark and settle in. Coffee, tea and something sweet.
A word of welcome and safety briefing from the skipper.
10:15 We set sail under expert guidance. You can relax or participate; it's up to you.
13:00 Lunch buffet .
15:00 Bar open, snacks.
17:00 Arrival in your port of choice.
19:00 Dinner buffet or bbq on board.
Sunday
09:00 Breakfast buffet.
10:00 we set sail for Monnickendam like the experienced sailors we are.
13:00 Lunch buffet.
15:00 Bar open, snacks.
17:00 Arrival back in port, farewell from skipper & crew.
Various possibilities for stops and excursions, such as Pampus, Muiderslot, Batavia historical wharf, etc. (entrance fees not included).
Prices
€ 61.95 Basic arrangement.
€ 84.50 Extensive arrangement.
€ 122.50 Luxury arrangement.
Prices are per person ans include meals, snacks, softdrinks, tax and service.
You can bring your own sleeping bag; we can also provide you with a duvet + towel set @ €15.00 per set.
Full descriptions or our arrangements on our full board page.
Descriptions of meals and bar options on our catering list.
Bar prices
€ 23,95 Basis bar.
€ 27,50 Uitgebreide bar.
€ 34,50 Luxe bar.
Bar prices are per person and include tax and service.
The bar is open from 15:00 to 00:30 hrs. Coffee, tea and softdrinbks are freely available all day.
Drinks can also be tallied up and charged afterwards; prices of individual drinks on our catering list.
Rent of the ship and crew:
€ 2.150,00.
Een weekend loopt van zaterdag 10 t/m zondag 17 uur.
Pay per person
Our packages are carefully selected based on years of experience with our guests.
Rates are per person, based on a minimum of 12 passengers. They include all costs except the bar and the rent of the ship, so there are no unpleasant surprises afterwards. You can change the final number of participants up to seven days before departure. Rates for small groups (<12 people) or different bar opening times on request.  Changes in the programme or meals (see our catering list) are also possible; please let us know what you would like.
Click here for a free quotation.
Monnickendam
Our sailing trips begin and end in Monnickendam. This beautiful town in less than ten minutes' driving from the A10 Amsterdam ring road is the ideal port of departure for all our trips. It has ample parking near the harbour and is well served by public transport. Other ports are also possible in agreement.