Bachelor party sailing

Bachelor party sailing on the IJsselmeer
Bachelorette party sailing on the IJsselmeer
Having your "stag party" or "hen do" on board the Catharina means spending a sporty and fun day on the water. A lot is possible within the confines of a ship, or outside. Want to let the wind blow your cobwebs away, followed by a night on the town in Amsterdam or Volendam? Let us know your plans, and the skipper will be happy to help.
Embarrassing
You'll want to organise a party where everybody is going to have a good time. Except for the spouse to be of course, because this is THE occasion to get him or her into embarrassing situations. You can also choose to make them really work for it: plenty of chores to be done on a ship, and the skipper will be glad to give the order to sweep the deck, hoist the sails or peel the spuds. Thought of something yourself? Talk to the skipper and he'll advise you on the possibilities.
Arrangements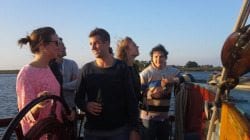 Our fully catered packages are our pride and joy; for a fixed amount per person we can offer a fitting arrangement for every event.  No unpleasant surprises afterwards. You can change the number of participants up to fourteen days in advance. Find them in the arrangements menu.
Click here for our fully catered arrangements.
Compose your own arrangement
Put your own perfect arrangement together with a few mouseclicks.
Click here for our handy calculator.
Just the ship
Do you just want to rent the ship and crew, and take care of the catering yourself?
Click here for our current rates.
Extras
Lots of fun and interesting activities that can be fitted into your day, from fast RIB boats to sea shanties.
Click here for optional extras.