Steer clear of traffic!


Steer clear of traffic!
Can you think of a bigger (and more pleasant) contrast? Others are stuck in the afternoon rush-hour traffic, while you and your colleagues, family or friends  board a sturdy, traditional sailing ship for a leisurely cruise on the IJsselmeer, enjoying a drink and a hearty meal…
Work during the day, get on board before rush-hour breaks out and let the cobwebs blow away. Go home in the evening, all relaxed and de-stressed. A perfect afternoon's sailing on the IJsselmeer.
Programme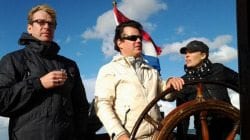 15:00 Welcome with snacks and a dram.
15:15 Departure; we set sail under expert guidance. You can relax or participate; it's up to you.
18:15 We anchor in a quiet spot.
18:30 Barbecue or dinner buffet on board.
20:00 Arrival back in port and a word of farewell from the skipper.
A stopover in historical Volendam or Marken is also possible.
Prices
€ 32.95 Basic arrangement.
€ 42.50 Extensive arrangement.
€ 54.50 Luxury arrangement.
Prices are per person and include meals, drinks, tax and service.
Description of meals on our catering list.
Rent of the ship & crew:
€ 750.00 Mondays-Thursdays;
€ 950.00 Fridays, Sundays and public/bank holidays;
€ 1,150.00 Saturdays.
Click here for a free quotation.
You pay per person
Our packages are carefully put together based on years of experience with our target groups.
Prices are per person and include all costs except the ship's rent, so there are no unpleasant surprises afterwards. Prices are based on a minimum of 16 passengers. You can change the number of participants up to seven days in advance. Rates for small groups  (<16 persons) and extended bar times on request. Let us know if you would like any changes in the programme, so we can provide you with a free estimate. Anything is possible, within reason.
Monnickendam
Our sailing trips begin and end in Monnickendam. This beautiful town at less than ten minutes from the A10 Amsterdam ring road is the ideal port of departure for all our trips. It has ample parking near the harbour and is well served by public transport. Other ports are also possible in agreement.