Luxury sailing holiday
Luxury Sailing holiday on IJsselmeer and Wadden Sea

A wonderful individual sailing holiday aboard an authentic Dutch sailing vessel, the Catharina van Mijdrecht. Explore the IJsselmeer and the Wadden Sea and spend a day on Terschelling, one of our most beautiful Wadden Islands. During the summer, the Catharina van Mijdrecht will make several week-long trips for individuals and small (family) groups that anyone, experienced sailor or complete novice, can take part in.
A whole week's sailing, fun and relaxation for €798,95 per person.
Full board based on two passengers per cabin.
Dates in 2018: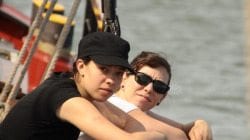 Week 1: Saturday 27 July – Friday 2 August 2019
Week 2: Saturday 10 – Friday 16 August 2019
Week 3: Saturday 17 – Friday 23 August 2019
Salt & sweet
On the day of departure you can board in Den Oever from 09.30, followed by a security briefing and sailing instructions. We cast off around 11 o' clock, heading for the islands. Depending on wind and tide we will arrive on Texel or Vlieland in the afternoon, giving you plenty of time to stroll around. Departure the next day depends on wind and tide; we arrive at Terschelling by the end of day two. The next day you can enjoy the island by cycling around (or taking the bus) and visiting its endless beaches, beautiful forests and charming villages. The rest of the week we slowly make our way back to Monnickendam, sailing across theWadden Sea, the IJsselmeer and the Friesian lakes. On Tuesday we arrive in Makkum after an adventurous Wadden trip. On Wednesday we continue our journey across the IJsselmeer, and after a short stop in Workum we visit the Friesian lakes. We spend the night on an uninhabited island, lighting a campfire for a barbeque. On Thursday it's back on the IJsselmeer via Stavoren, and on to Enkhuizen or Medemblik. On Friday afternoon we will arrive back in Den Oever.
Four islands
The exact route depends on the wind and tide. An adventurous trip across the Wadden, where we will visit at least four islands: Texel, Vlieland, Terschelling and Ameland. We will also include seal watching, "running aground" (possibly at night) and a Wadden walk across the sands. There will be at least one whole-day stopover on one of the islands, with plenty of time to rent a bike and visit charming villages, endless beaches and unique landscapes. A wonderful sailing trip with lots of variety: each island is different. With a little luck we can even make it to Schiermonnikoog, the fifth island. On Friday we will arrive back in Den Oever in the afternoon.

Meals
A sailing holiday means lots of sailing (duh!), fresh air and enjoyment, so we'll make sure there is plenty of food and refreshments on board. All meals are freshly prepared; we love good food and we can take most diets into account.
An extensive breakfast and lunch buffet is served daily, and in the evenings our ship's cook will prepare a three-course menu served with a glass of wine, beer or something non-alcoholic.
Various snacks are served throughout the day, and coffee, tea and soft drinks are all included in the price. Alcoholic beverages are sold on board as well.
Facilities
We have seven double cabins and one family cabin, each with a private wash basin. Our comfortable beds are freshly made when you come aboard, so you don't have to bring any bedding yourself. There is a spacious communal shower and two toilets. Towels are  not included.

Included:
Prices include breakfast, lunch, dinner, snacks, harbour fees, tax, booking fees, service and fuel. 50% Surcharge for a single cabin.
Children up to 3 years free, in a travel cot in your cabin.
Children up to 12 years €598,00, in the family cabin.
Children up to 17 years €698,00.
Early check-in
Would you like to board the night before? You are welcome from 21:00 hrs. Extra charge is € 39.50,  including breakfast.
50% Surcharge for a single cabin.
To book our sailing holiday, please fill in the contact form or send an email with "luxury sailing holiday" in the subject box, with your personal details and your preferred dates, to info@catharinavanmijdrecht.nl. You can also call us at +31 622 974 117