Nieuwsbrief september 2013

De Catharina van Mijdrecht op televisie

Afgelopen zomer heeft IDTV, in opdracht van de EO, de nieuwe documentaireserie "Nederland vanaf het water" opgenomen. De Catharina van Mijdrecht speelt hierin een prominente rol. Behalve dat het vijf weken lang de accommodatie was voor de filmcrew, komt het schip veelvuldig zeilend in beeld; het vormt als het ware het decor waarachter Nederland en het water zich ontvouwen. In acht afleveringen, waarbij de Catharina van Mijdrecht door heel Nederland zeilt, worden de verschillende relaties van het land, de bewoners en het water belicht. In iedere aflevering wordt een ander vaargebied getoond met de daar specifieke interactie met het water; denk aan recreatie, handel, scheepvaart en natuurbehoud. Maar ook de aloude strijd van de Nederlanders tegen het water komt ruim aan bod. Hierbij lopen verleden, heden en toekomst vloeiend ineen. Er is gefilmd vanaf het land, het water en het schip, maar ook vanuit de lucht zijn spectaculaire beelden geschoten. De Catharina van Mijdrecht zeilt hierbij door het shot terwijl de camera rond het schip zweeft. Je zult het zelf moeten gaan zien; volgend jaar wordt het uitgezonden.
Herfstzeilen

De zomer is weer voorbij, toch is het voor de echte zeiler nog niet afgelopen. De herfst heeft nog veel mooie zeilmomenten, terwijl buiten de wind blaast loeit binnen onze kachel. Geen lange zeildagen meer met buitengaats barbecueën, maar welverdiende gezellige avonden aan boord met een hartverwarmende pompoensoep, mosselmaaltijd of Captain's dinner.
Winterzeilen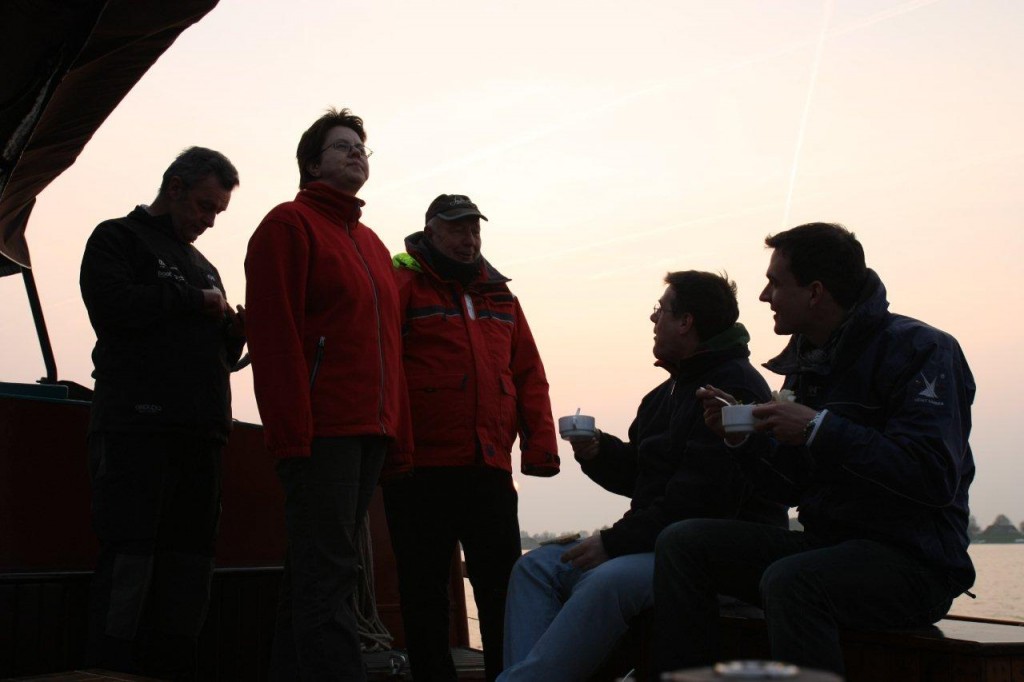 Ook in de winter is de Catharina van Mijdrecht beschikbaar voor een zeiltocht. Het schip heeft centrale verwarming en de keuken serveert de nodige verwarmende hapjes en drankjes. En mocht het onverhoopt gaan vriezen dan organiseren wij gewoon een schaatstocht over de Gouwzee. Bij terugkomst is er dan erwtensoep, warme chocomel en Berenburg. Ook als groepsaccommodatie is het schip te huur, voor overnachtingen in zowel Monnickendam als Amsterdam. Informeer naar de mogelijkheden.
Zomerzeilen

Individueel meezeilen op een origineel zeilschip. Komende zomer vaart de Catharina van Mijdrecht weer enkele weken met individuele passagiers; hierop kan iedereen zich inschrijven. Zeilervaring is niet noodzakelijk. Een heerlijke zeilvakantie met uzelf, uw partner of gezin aan boord van een originele klipperaak. Een week lang het IJsselmeer en de Waddenzee verkennen met als hoogtepunt een hele dag op Terschelling, een van de mooiste Waddeneilanden. Een hele week zeilen en genieten voor slechts € 598,50 per persoon.
Lees verder>
Catering met liefde

Graag willen wij u op het volgende attenderen:
* Wij bereiden al onze maaltijden met liefde, direct aan boord en met verse producten.
* Wij gebruiken geen onnodige toevoegingen.
* Wij serveren alleen duurzaam gekweekte of gevangen vis.
* wij gebruiken waar mogelijk diervriendelijk geproduceerd vlees.
* Al onze producten worden zo veel mogelijk in de streek ingekocht.
* Wij houden op verzoek rekening met speciale diëten, zoals vegetarisch, glutenvrij, halal of koosjer.
* Indien gewenst maken wij u een offerte met geheel biologische producten.